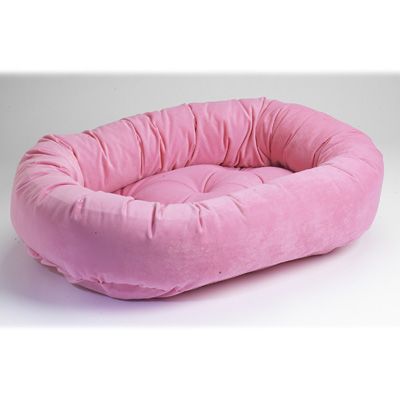 This pink dog bed is just so cute, plush you little lady will love it. I got one of these beds for my dogs a few years ago and they (4 of them) just love it. It isn't pink, because I only had boys at the time, but it is very easy to keep clean and I just put it in the washer and it comes out great. You just put the pillow in the wash like it is and unzip the bolster and take the inside stuffing out to wash the sides. You can dry it in the dryer, but be sure to put the heat on delicate. I accidently left it on high and the edge of the pillow melted a bit.
Bowsers Donut Dog Bed features an oval outer ring for security and comfort, as well as 100% "high-memory" polyester fiber in both the bolster and bottom cushion, ensuring a familiar and peaceful fit every time your dog lays down to sleep. The overstuffed "tufted" bottom cushion, combined with a removable convoluted foam bottom insert, provides unsurpassed support, and when removed, the cushion can be used as a crate or travel mat.
100% woven cotton microvelvet does not pill and best of all, gets softer every wash, maintaining its great look for years. The remarkable fabric also repels pet hair, dirt moisture. Its "breathable" construction makes it cool in the summer and cozy in the winter months. Pre-washed and color-safe fabrics, as well as a zippered bolster and cushion, make for easy machine washing and drying.
Features: Award-winning design Adapts to your dogs weight and sleeping position Soft and comfortable bottom cushion can be used as crate or travel mat Improves with age Perfect for any season Durable Easy to clean Item Specifications: Sizes: Small = Up to 25 lbs Outer Dimensions = 27 x 22 x 7 Inner Dimensions = 19″ x 11″ x 5 Medium = Up to 45 lbs Outer Dimensions = 35″ x 27″ x 8″ Inner Dimensions = 26″ x 17″ x 6 Large = Up to 80 lbs Outer Dimensions = 42″ x 32″ x 9″ Inner Dimensions = 31″ x 19″ x 7 X-Large = up to 100 lbs Outer Dimensions = 50 x 36 x 9 Inner Dimensions = 36″ x 22″ x 7

Click here to get more info on Bowsers Pink Donut Dog Bed